Engaging the Next Generation
Sukkah City
$45,000 for 2012 event

Support for an international architecture competition in 2012 to design a DIY (Do It Yourself) sukkah. The competition and related public events and programming will build on the success of Sukkah City 2010, which drew over 250,000 people to an exhibition of winning designs in Union Square Park in New York and was named one of the ten more important architecture happenings of the year by The New Yorker.
Six-Points Fellowship
$200,000 over two years for West Coast Expansion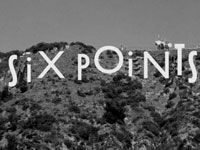 In a major effort to recognize the importance of arts and artists to shape, educate and engage the young adult Jewish community, the Six Points Fellowship is expanding their successful emerging artist fellowships to Los Angeles. These fellowships for emerging individual artists in their 20's and 30's identify and support creators of culture with the goal to inspire the development of high quality new projects that engage with Jewish ideas, concepts, and questions in the areas of: film; video and animation; visual art; and performance-based art. The two-year fellowship program will provide nine artists with a living stipend, financial project support, professional development workshops, and ongoing peer and professional-led learning opportunities.
LimmudLA
$25,000 for General Support

Limmud, the largest "do-it-yourself" Jewish conference in the world, attracts over 15,000 participants (many in their 20s and 30s) in cities across the globe each year. RPF's funding has helped bring Limmud to Los Angeles with more than 1,000 Jews from various backgrounds attending its annual gathering.
Revitalizing Jewish Arts, Culture & Identity
Star in the Ring
$40,000 to support
documentary production
Support for first full-length documentary to illuminate the golden era of Jewish boxing (1920-1940) through the stories of four of the greatest Jewish boxers – Benny Leonard, Barney Ross, Lew Tendler, and "Slapsy" Maxie Rosenbloom. Passionate and compelling interviews help animate this story along with archival footage.
Lookingglass Theatre Company
$20,000 to support the tour of The Last Act of Lilka Kadison

Planning grant to help tour Tony Award-winning Lookingglass Theatre's production of The Last Act of Lilka Kadison – an original play about a woman at the end of her life. The play (developed with the help of RIGHTEOUS PERSONS' funding) connects the Jewish experience to more universal themes of memory, aging, art, and family. It does so by integrating choreography, toy theatre, puppetry, magic, and original music with the Jewish folk stories upon which the play is based.
Sholem Aleichem: Laughing in the Darkness
$30,000 to support distribution and educational outreach

Funding to support the distribution and outreach of this documentary about the great Yiddish writer Sholem Aleichem. Best known as the cretor of the Tevye the Milkman, the central character in Fiddler on the Roof, Sholem Aleichem was a key chronicler of Eastern European Jewish life and a key player in the creation of Yiddish as a literary language. RIGHTEOUS PERSONS helped fund the production of the film.
UCLA Film & Television Archive
$50,000 to support preservation of
This is Your Life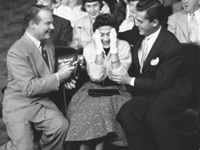 One of American television's most popular programs,
This is Your Life
presented tributes to hundreds of notable people on NBC from 1952 until 1961, hosted by the effervescent Ralph Edwards. Among the many famous personalities that the show honored were also many ordinary people who had overcome tremendous obstacles. Among these "regular" people were three exceptional women—Hanna Bloch Kohner, Ilse Stanley and Sara Veffer—all Holocaust survivors. Their harrowing yet inspiring stories are vividly related in these three
This is Your Life
episodes recently preserved by the UCLA Film and Television Archive which marked some of the earliest television portrayals of Holocaust survivor. These episodes comprise part of the 2011 UCLA Festival of Preservation which will tour throughout the country.
American Library Association
$35,000 for traveling exhibitions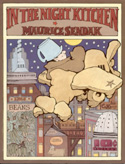 The American Library Association (ALA) is traveling three exhibitions that share the stories of American Jewish artists and their contributions to American culture with hundreds of thousands of Americans in dozens of different cities throughout the United States. Visitors will be led through the artistic journey of iconic picture book author/illustrator, Maurice Sendak; get to know the inspirational words and life of poet, critic, and social activist Emma Lazarus; and understand to what extent American Jewish songwriters, (e.g. Irving Berlin, George and Ira Gershwin, and Harold Arlen) added the spirit of their Judaism into a collective American songbook.
Aronson Film Associates
$50,000 for the Production of
Orchestra of Exiles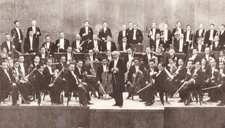 In celebration of the 75th anniversary of the founding of the Israel Philharmonic Orchestra (IPO), the film
Orchestra of Exiles
documents the founding of the Palestine Symphony – the orchestra that would become the IPO. The film tells the story of renowned Polish violinist, Bronislaw Huberman, and his efforts to create a land that would become a refuge for some of the
casino
greatest musicians of the early 20th century.
Orchestra
features interviews with the likes of Daniel Barenboim, Pinchas Zukerman, Itzhak Perlman, and Zubin Mehta as it traces the creation of a top flight symphony orchestra in the desert outback of Palestine.
Museum of Jewish Heritage
$50,000 for support for Emma Lazarus: Mother of Exiles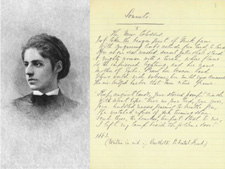 The Museum of Jewish Heritage in New York is organizing the first major exhibition to explore the life and work of Emma Lazarus, the writer and poet best known for her poem
The New Colossus
which graces the Statue of Liberty. Through extensive historical artifacts, documents, art, media, and educational programs, the exhibition will bring to light Lazarus's virtually unknown Jewish writings and will present her as a major literary figure who advocated for immigrants, envisioned opportunities for Jews in exile, and crafted the voice of welcome for all new arrivals to America.

National Center for Jewish Film
$35,000 for support for The Dybbuk Preservation Project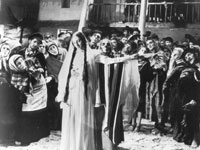 The 1937 film adaptation of S. Ansky's play The Dybbuk brought together the best talents of Polish Jewry making it one of the finest and most important Yiddish films ever made. Polish director Michał re-tells Ansky's story of a young bride possessed by a malicious spirit on her wedding. The film's musical and dance interludes evoke the cultural richness of shtetl life and Polish Jewry – on what we now know to be the eve of their destruction. Following preservation, the film will headline the world-traveling Yiddish Film Festival.

Strengthening Service & Social Justice
Jewish Funds for Justice
$160,000 over two years for support of New Orleans Service Trips

In an effort not to forget the recent disasters in the Gulf Coast Region, Jewish Funds for Justice (JFSJ) sends Jewish college students to the South to volunteer in communities like New Orleans, Biloxi, and Plaquemine Parish to help clean up neighborhoods, tear down old structures and renovate homes. These service learning trips allow the participants to connect Judaism and social justice in a meaningful way as the trips integrate hands-on service with Jewish study and reflection.

Taproot Foundation
$30,000 for Capacity Building Grants

Taproot Foundation, a volunteer corps of business professionals who donate their time to help U.S. non-profits strengthen their organizations, has helped more than 700 non-profits hone their strategies and gain financial stability. Our grants support Taproot's work with RPF grantees leveraging over $400,000 in pro bono consulting services in such areas as marketing, branding, strategic planning, and IT. The benefits are felt not only by the non-profits, but by the volunteers themselves who are able to make an impact and learn more about the Jewish non- profit community.

Promoting Understanding
Keshet
$20,000 for General Support

Keshet, the only Jewish organization that works on a national level to help Jewish institutional settings be more open and sensitive to the needs of gay and lesbian Jews, offers training in curricula, online resources, development, and community mobilizations. Through these efforts, Keshet helps clergy, teachers, community leaders, and students challenge homophobia, intolerant language, and ignorance in their own communities. Last year alone, 5,000 individuals were impacted by the program (with an estimated 250,000 impacted indirectly). Keshet now plans to expand their trainings to youth groups, summer camps and Conservative synagogues.

Holocaust Education/Survivor Aid
Nuremberg: Its Lesson for Today
$25,000 to support distribution and educational outreach

Funding for the distribution and educational outreach of this historic film composed of the Nazis' own film records of their crimes against humanity. The film was commissioned in 1945 by the U.S. War Department as part of their charge to locate Nazi film evidence to be shown in the courtroom at Nuremberg. The film -- the first film to be allowed to be submitted as evidence in a court of law – was never shown in the U.S. until its recent restoration.
Bet Tzedek
$160,000 over two years for support for Holocaust Survivors Justice Network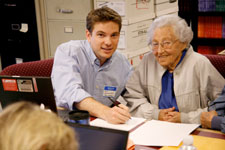 With over 25% of U.S. Holocaust survivors living below the poverty line, German government reparations are critical to their survival. These funds have become even more essential as this population ages and as the domestic economy gets worse. Against this backdrop, a new pension program for ghetto workers (referred to as the "ZRBG") became available in 2009. Bet Tzedek is deploying a national pro bono legal network of nearly 100 law firms and over 50 social service agencies to help survivors navigate the complex web of legal forms needed to apply for this pension program. Their goal is to reach more than 10,000 survivors in 30 U.S. cities within the next two years, bringing as much as $30,000,000 in reparations.